Cute with malicious intent.



Eggscaped Convicts is a card game created for Hasbro and Big Potato games. The original brief was to take an existing classic game from the public domain, and use it as inpiration for a contemporary party game. We chose to create a a game based on Egyptian Rat Screw. The original game uses a traditional 52 card deck, and game play is simple: each player takes turns putting a card down, watching out for a face card or combination of cards that transfer the collected pile of cards to a certain player. The player with all the cards at the end wins.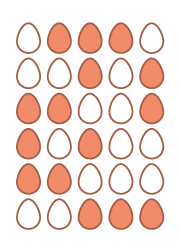 We wanted to keep the game simple and created only 7 distinct cards. Four Character cards (Cregg, Boile, Deggster and Shelldon) and three action cards (Boil, Fry and Whisk). Our aesthetic and character development was directed towards the 20-35yr old demographic. While our characters were cute and the colors playful, we wanted to juxtapose it with humorous scenes of their demise in a traditional kitchen scene.

Our storyline is that there are four bad huevos, the EggScaped Convicts, on the lam from the law. The player's job is to capture as many of these bad eggs as possible using whatever is available in the kitchen.